Yeast Hydrolysate Powder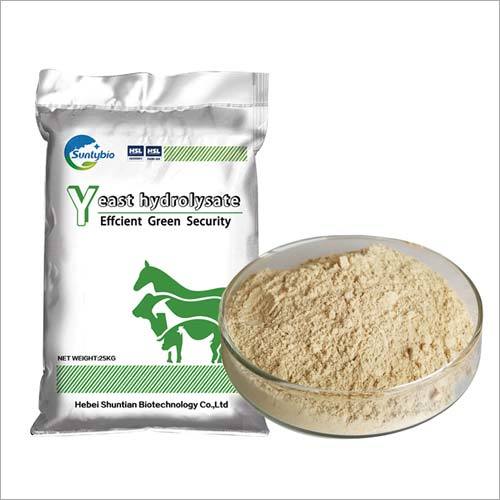 Yeast Hydrolysate Powder
Product Description
Yeast Hydrolysate Powder is commonly used as an animal feed additive. Traditionally, yeast hydrolysate was used as a plant fertilizer. This powder is a good source of protein and essential minerals that help improve digestion and immunity. It is finely granulated powder. Yeast Hydrolysate Powder comes in preventative packaging that keeps impurities and contaminants at bay.
Yeast hydrolysate is rich in nutrients and can be used as a supplement for amino acids, peptides and B vitamins. Secondly, the nucleotide in the yeast hydrolysate plays an important role in the nutrition of animals, especially young animals. The research shows that nucleic acid has the effect of enhancing the immunity of the organism, promoting the regeneration and repair of cells, promoting the normal development of intestinal tract, antioxidation and maintaining normal intestinal flora. In addition, the creatinine and guanosine in hydrolysate can be used as flavoring agents, and have a better application prospect in promoting animal feeding. After the application of many enterprises, this product can effectively reduce the death rate of piglets, obviously improve the growth rate, and now all kinds of animals have been widely used.


Application fields :
Pets, aquaculture and ruminant.
Feed Grade Autolyzed Yeast

Product efficacy :
Improve the feed quality and food calling effect is good;
Added exogenous nucleotides, then promote the growth and development;
Prevent disease and improve animal anti-stress ability;
Replacement of high-grade fish meal, plasma protein powder and whey powder.

Product Specification :
Product Name : Yeast Autolyaste
Protein : >

55%
Nucleic Acid : > 7%
Amino Acid Nitrogen : >2.5
Moisture : <6.0
Ash : <8.0

Packing & Delivery :

Packaging : 25Kg/Bag Compound Kraft Paper bag
Loading : 14-15t 'FCL without pallet
Shelf life : 18 months
Notice :
Please put it in a cool and dry place, open and use it, and seal the packing bag in case of damp.
Trade Information
Contact us for information regarding our sample policy

Packing: 25kg/bag, coated kraft paper bag Shelf life: 12 months Notes: Please place in a cool and dry place, use promptly after opening, timely seal the bag in case of be affected with damp.
Contact Us
Machang Town, Qing County, Cangzhou, Hebei, China
Phone :+8613191995190